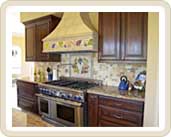 Eppinette Construction LLC was founded in 2004 by Korey J. Eppinette. Korey attended Thaddeus Stevens College of Technology for two years and majored in Carpentry. He then attended Clarion University and majored in Business Management and Real Estate.
Korey works hands-on in every single aspect of the business. His personal involvement is very comforting to his clients, as building without personal attention can be a very traumatic experience.  Korey handles business sales, estimating, scheduling, drafting, overall management of the company and is on site 90% of the time.  At Eppinette Construction LLC, we know that trust is the most important element in building client relationships.  That is why honesty and integrity dictate all we do.
Eppinette Construction LLC is dedicated to providing quality construction.  We strive to create a long term relationship with our clients based on integrity, quality timely service and anticipation of their needs. We value the importance of our relationships and will continue to remain fair and true in our dealings with all employees, clients, vendors, and partners. Our clients count on our dependability, our drive, and our integrity. We take great pride in our accomplishments and build on them every day.
Eppinette Construction LLC keeps a large percentage of the work "in house".  This ensures the work is getting done properly and in a timely manner.  When you select your contractor, you are not only buying a product, but also a service. As an experienced custom builder, we have the ability to control the quality of our workmanship to the highest standards. We employ only qualified personnel who are committed to upholding this high level of excellence. Over the years we have developed a great working relationship with some of the best trade contractors in the area.  Although we bid each job to determine our final cost, we do not bid the job to find the lowest bid; rather we work with a core group of subcontractors to assure uniform quality.
Eppinette Construction LLC will never promise something that we cannot deliver.  We never "under bid" an estimate to get the project only to surprise a customer later with change orders. We would rather explain our price than compromise our integrity.  At Eppinette Construction LLC we pride ourselves in personalized service, quality, integrity and trust.  Anything less is just unacceptable.