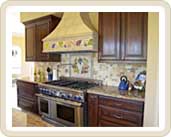 We understand that customers like to talk with more than one contractor before making a selection for the job. We actually recommend it. Here are some questions we recommend that you ask every contractor. We believe that the answers to these questions will help you understand the proposals you receive more completely:


Experience, how much time in the business, what has the contractor done or built?
Insurance-liability, workers comp, business auto. Does your contractor carry all the proper insurance? The contractor should be able to present these documents to you.
Referrals, does your contractor have a list of more than three people you can talk with about the experience of having that contractor in their home?
Can you visit current project sites?
Communication, does your contractor call you back promptly? Listen to your concerns? Address your concerns promptly?
Warranty, does your contractor provide a warranty? What does it cover?
What is included? Does the contractor put everything into writing?