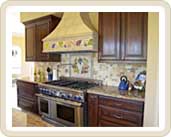 Kitchen and bathroom remodeling is one of the best investments you can make in your home. Not only is your kitchen the place where your family spends a significant portion of their waking hours when they are home, but it is also the one room which can significantly increase the value of your home and actually may assist you in selling your home when the time comes.

Kitchen and bathroom remodeling, however, can be a very messy and disruptive home improvement project. The length of the disruption can be as long as a month or more, even with a well thought out plan. Eppinette Construction LLC takes pride in their ability to minimize the "down time" and the disruption to your daily routine during this project. We also utilize the latest techniques for the maximum dust reduction and our jobsites have been described as being as "clean and neat as possible".

At Eppinette Construction LLC, not only is our finished product of utmost importance to us, but we also care about making the transition from your old to your new a pleasant, enjoyable experience. Our owner is on hand from the initial design/planning phase through to the last clean up.