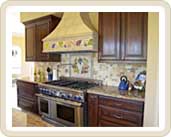 Eppinette Construction LLC has years of experience in basement renovations. When you first look at your unfinished basement, it might be difficult to see the many possibilities for creating a wonderful living space for you and your family.

At first glance, you might see a huge amount of indeterminate space that is rough, bare and empty. However, that space has limitless potential and offers enough room for everything you can image. From a media/home theatre room to that extra bathroom that the family has always needed. Once our job is completed many of our clients say the basement is their favorite part of their home. Eppinette Construction LLC can provide many designs that will best suit your basement.  We can even install egress windows if you wish to have bedrooms in your finished basement.

There are many ways to approach a basement remodeling project - the entire area can be left open, or it can be divided into several rooms. It can be elegantly finished or it can be given a rustic design. The only limits are the boundaries of your imagination.